Car number eight
I've heard the claim that deep down, every American guy secretly wants a 1-ton pickup truck with a huge engine. I'm not sure if that's true, but that's exactly what I ended up getting for my eighth car.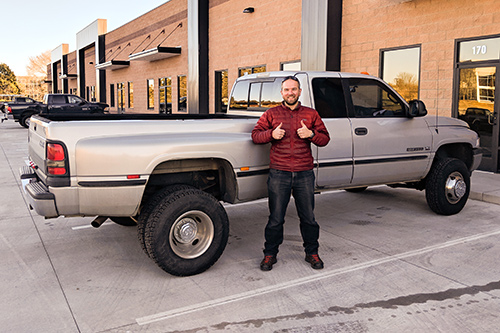 I still have Sam the Subaru Outback. Sam is great, but I found myself in need of more towing capabilities than any unibody car could be expected to comfortably provide.
I wanted to be able to tow at least 8000 lbs, which meant one of three options: a large SUV, a full-size van, or a pickup truck. I also wanted to keep the purchase cost low and the reliability high, which eliminated a surprising number of options. Many SUVs are great, and even unibody SUVs often have surprisingly high towing capacities (about 7500 lbs for the Cayenne, for example), but they just wouldn't be well-suited to towing an enclosed trailer though the mountains with a race car on board. Yes, they would do it, but it would be hard on them.
Full-size vans, like the Ford E-350 or the Chevy Express 3500, have high towing capacities and a lot of interior room, but almost all of the reasonably priced ones have lived extremely hard lives as commercial work vehicles. The Mercedes Sprinter 3500 is another option, but it combines an unusually low towing capacity (about 7500 lbs) with insanely high prices, even used.
All of which brought me to pickup trucks. I would like to have a gooseneck trailer at some point in the moderately near future, as they are apparently wonderful to tow, and that requires a pickup. A dually, ideally.
I searched for a while, trying to decide among Ford, Chevy, and Dodge, and whether the religion founded by Rudolf Diesel was worth its many trade-offs. The stakes were high, since as everybody knows, Ford truck drivers can't be friends with Chevy truck drivers, and nobody likes Dodge truck drivers. Then, one day, the stars aligned on Craigslist.
Thus, my eighth "car" is a 1999 Dodge Ram 3500 V10 4×4 long-bed dually pickup truck. It's enormous, comically inefficient, and sprung so hard that driving on a concrete freeway gives me a headache, but man can it tow. With a fifth wheel or gooseneck, it's rated at about 13,000 lbs. And while that isn't particularly high by modern standards, it should be sufficient, and the purchase price was well within budget.
Stats
Silver 1999 Dodge Ram 3500 4×4 quad-cab long-bed dually
8.0 L V10 gas engine
4-speed automatic transmission
310 HP / 450 lb-ft torque
13,000 lb towing capacity
Gray interior
101,300 miles when acquired (December 11, 2018)