Photographing the Tour
This morning, I photographed Stage 2 of the Tour of California (think Tour de France, but in California).  Because of the speed of the riders and the difficulty of travel, I had to chose a single location.  After scouting along the mountainous Tunitas Creek Road, I settled on a spot next to my favorite California lighthouse: Pigeon Point.

My plan was to have two cameras: one radio-triggered remote with a wide-angle lens, and one handheld with telephoto glass.  Each of them would be framed so that both the riders and the lighthouse would be visible.
The lighthouse was the deciding factor in my choice of location.  Although the climb on Tunitas is beautiful, it is really nothing but a nondescript climb in a thick forest.  That could be anywhere.  The Pacific coast?  Well, there's only one of those.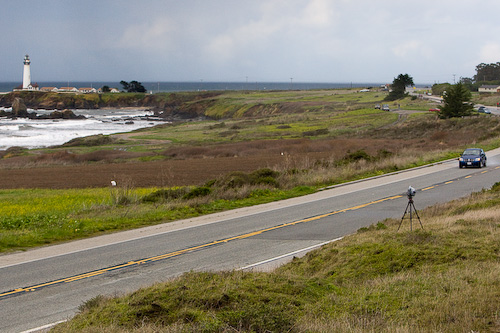 My remote camera (wrapped in plastic) in the lower right
The weather was dismal: rain, wind, and cold.  Fortunately, the conditions changed by the moment: there would be a downpour, and then all of a sudden, it would be sunny.  Then I'd see another squall barreling towards me over the ocean, and it would be raining again.
After a wonderful dry spell, just after the first advance vehicles from the Tour passed me, torrential rains made landfall.  I had hastily wrapped my remote camera in a zip-top bag, added a makeshift cinefoil hood to its lens, and gaffer-tapped the mess up tight.  My other camera went into a big garbage bag with a hole for the lens.  Who needs those expensive covers?  Everything stayed perfectly dry, even in the worst of it: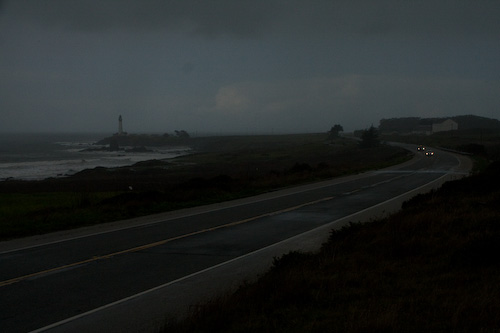 Rain!!!
All of these are from the remote camera, hence the identical framing.  Gradually, the rain began to subside: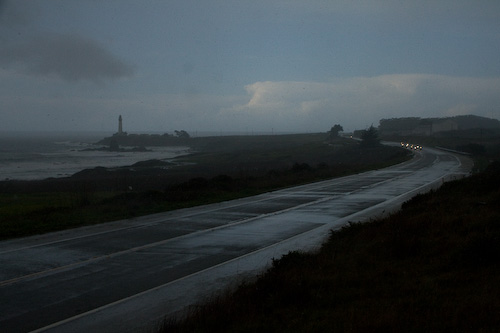 A little better…
Then, like magic, the clouds parted and the sun emerged — right as the peloton approached.  It was so remarkable that I feel compelled to show it visually: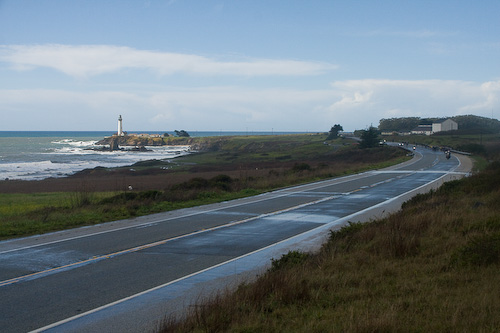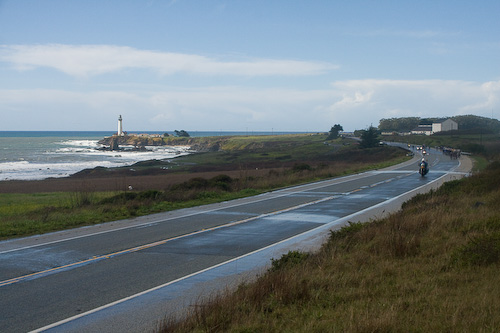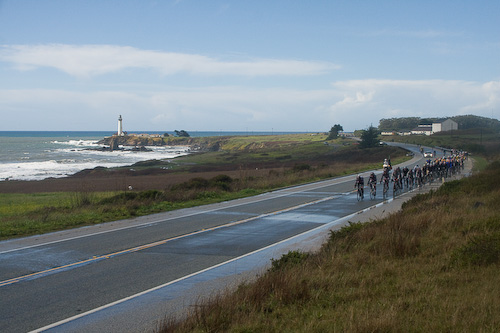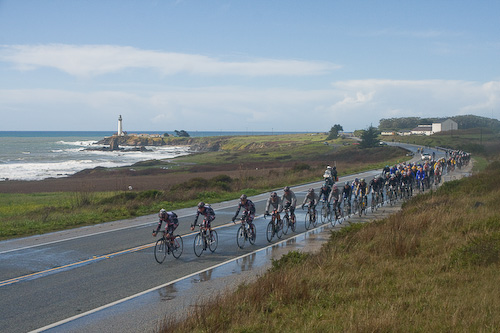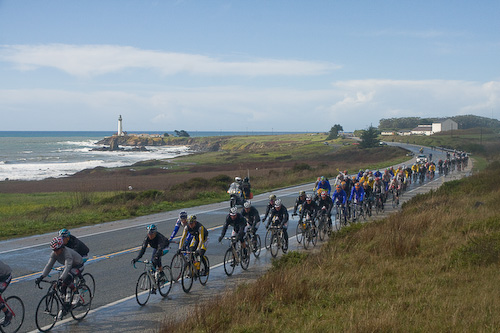 Amazing!
After that, the storms seemed to disappear, and it became a very pleasant day.  I hope the weather holds for the riders as they continue along the Tour tomorrow!