Carspotting
As you all know, I love cars — particularly fast cars.
Silicon Valley is a great place for carspotting.  Since I been here, I've encountered numerous Teslas, Aston Martins, Bentleys, Ferraris, and Lamborghinis on the roads.  I've even seen some super exotics, such as the rare Porsche Carrera GT.  Today topped them all.
I pulled out of my apartment complex this afternoon behind… a Bugatti Veyron.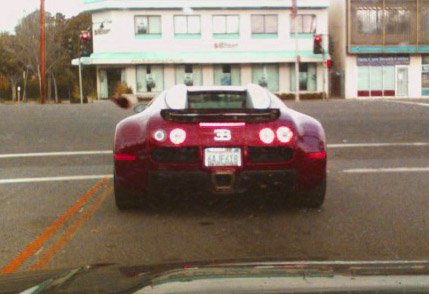 Yes, one of the world's fastest (0-60 in 2.4 seconds), rarest (fewer than 300 produced), and most expensive (about $1.4 million) production cars.  In the metal.  Maroon-painted metal.
Needless to say, it left the light very quickly.  What a rush.